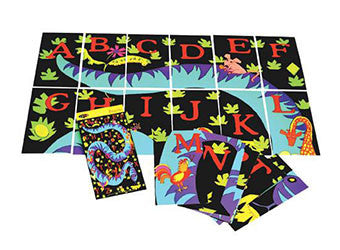 Sube
ESL Beginner Alphabet Snake Puzzle Reorder
The Alphabet Snake Puzzle is a game to practice the alphabet, phonics and word development. Thirty laminated color pieces form the 2' x 4' puzzle. Assemble the alphabet and watch the snake appear or play games where children call out the words that begin with selected letters. Aesthetically rich and wonderfully adaptable, the game along with its "spiraled" variations, moves students along the spectrum from lower to higher levels of skill.

Students begin by learning the alphabet, move on to sound and phonics activities, graduate to word associations, and finally end by crafting complete sentences.

This colorful puzzle is an excellent independent or guided activity for groups and individuals alike.
---
Share this Product
---
More from this collection